Industry 4.0 Savings Tracking
Track the value of your defined Industry 4.0 Roadmap targets and highlight additional opportunities for your operations.
Schedule a Call
Learn more
Track your Industry 4.0 Roadmap savings
Following our comprehensive Loss Analysis Report, executed during specific time intervals, gain a 360° view towards the financial impact of technology adoption.
Use our Industry 4.0 Savings Tracking tool to: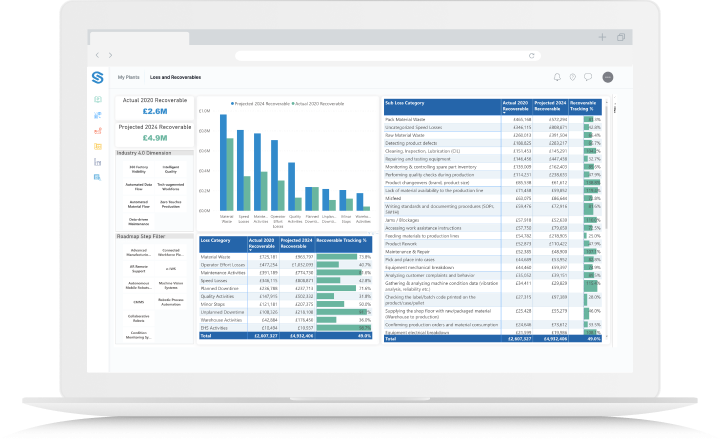 Track manufacturing loss progression through time
Identify the key losses that provide the opportunities of tomorrow
Compare your actual financial savings against your Industry 4.0 Roadmap targets
Understand how technologies influence the plant loss profile
Savings Tracking Methodology
Execute Loss Analysis
The process starts by performing a Loss Analysis to identify the current loss profile of the plant.
Track Loss Variance
Then a benchmark between current and past state is conducted to track loss variance.
Determine Outliers
Our platform correlates the results of the previous loss analyses to determine the loss outliers.
Define Interventions
Based on the outliers, our clients define the interventions needed to achieve their targets.