Angelos Tsoutsias

/

Advanced Manufacturing Technologies
Robotic Grippers: 5 Top Technologies
Robotic grippers are an attempt to recreate the ability of the human hand to grasp and handle objects. Until recently industrial robots were using two-finger grippers for less complex tasks; nowadays though, and as robotic handling becoames a norm in the Factory of the Future, a wide range of gripping technologies have been developed, based mostly on two rules:
the shape of the gripping surface
the force required to grip the object
Below is a list of companies that innovate in the specific area.
Zimmer GmbH manufactures a wide range of industrial machinery, within which sits a series of specialised clamping and handling tools for robotic applications:
Zimmer creates 4 kinds of grippers:
manual grippers
pneumatic grippers
hydraulic grippers
electric grippers
Apart from these standard types, variations in direction include:
parallel grippers
concentric grippers
rotary grippers
They also come in 2-jaw and 3-jaw variations
RSP builds highly flexible grippers that can palletize any type of pattern thanks to the multiplacing function with its 10 variable vacuum zones with quick product and pattern changes. Their grip and release function provides fast pick-and-place with versatility as well as minimum maintenance.
The two solutions of Robot System Products are:
Smartgrip
Parallel gripper
IPR (Intelligente Peripherien für Roboter)
IPR is a manufacturer of peripherals for robotic applications, with a comprehensive range of grippins solutions which include the following:
2-Jaw Parallel Grippers
3-Jaw Parallel Grippers
2-Jaw Angular Grippers
3-Jaw Angular Grippers
2-Jaw Parallel Gripper with Electro-Pneumatic Motor
Hybrid Grippers
Special Grippers
Modular Gripping System
Apart from these off-the-shelf solutions, IPR can also create customized solutions according to customer needs.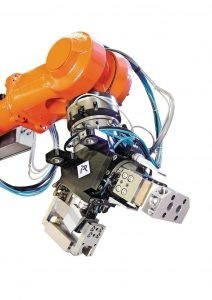 Empire Robotics is the creator of VERSABALL, a flexible and safe universal robot gripper, designed to solve difficult automation problems.
The core principle behind VERSABALL is that different object shapes have very different gripping dynamics and, as a result, very different grip strengths.
Versaball is filled with a sand like material; when air is pumped into the ball, the ball softens. Itis then pushed against the target object and, by pulling air out of the ball, it hardens, gripping the object.
Schmalz is a specialist in vacuum technology.
Vacuum components and gripping end-of-arm robot tooling systems are ideal for automated processes as they are individually designed for the application at hand, providing efficiency and reliability.
Have you or your company used these or similar solutions?
Is there a solution that is missing from this list? Send it to us at info@smarterchains.com and we will add it.