Nikos Lappas

/

Advanced Manufacturing Technologies
MES OEE: Top 4 solutions
MES OEE is a module that monitors production lines in real-time & displays the actual performance of each line.
Equipment Overview
OEE draws data from MES and uses it to analyze downtime, production count, waste & more. It can generate reports based on real-time KPIs and enables operators to visualize production line performance; this way they are able to identify underperforming equipment and take the necessary actions to remedy the situation.
Users
Planner
Line Operator
Production Manager
Margin Improvement
Use of MES OEE can lead to higher equipment uptime due to improved scheduling and fewer manhours dedicated to measuring, inspecting & reporting.
It also improves asset efficiency and results to better machine performance due to timely reaction through real-time visibility of material usage on the production line.
Below you can find 4 leading MES OEE Reporting solutions for the smart factory.
SepaSoft's MES OEE module improves efficiency by tracking downtime and calculating overall equipment effectiveness (OEE) via automated software.
SepaSoft's OEE calculation software combines the current efficiency for a machine, a production run, or even the entire facility and combines it with the tracked downtime in order to unlock information about where and how to make improvements to raise the OEE rates of the whole facility. This way, it empowers manufacturers with actionable data that can help managers reduce operating cost, increase asset utilization and boost operating efficiency that results in improved profitability.
OEE and downtime data is displayed in real time, enabling operators to respond to real-world situations as they happen. This real-time communication between the enterprise and plant floor helps facilities accomplish continuous improvement.
Cantier's Equipment Management System calculates Overall Equipment Effectiveness based on each machine's availability, productivity, and quality of outputs. It also allows companies to quickly see how good their machines are performing and facilitates continuous improvement.
Cantier's OEE computes:
availability based on equipment downtimes
productivity based on the machine's output per day
quality based on rejects on finished goods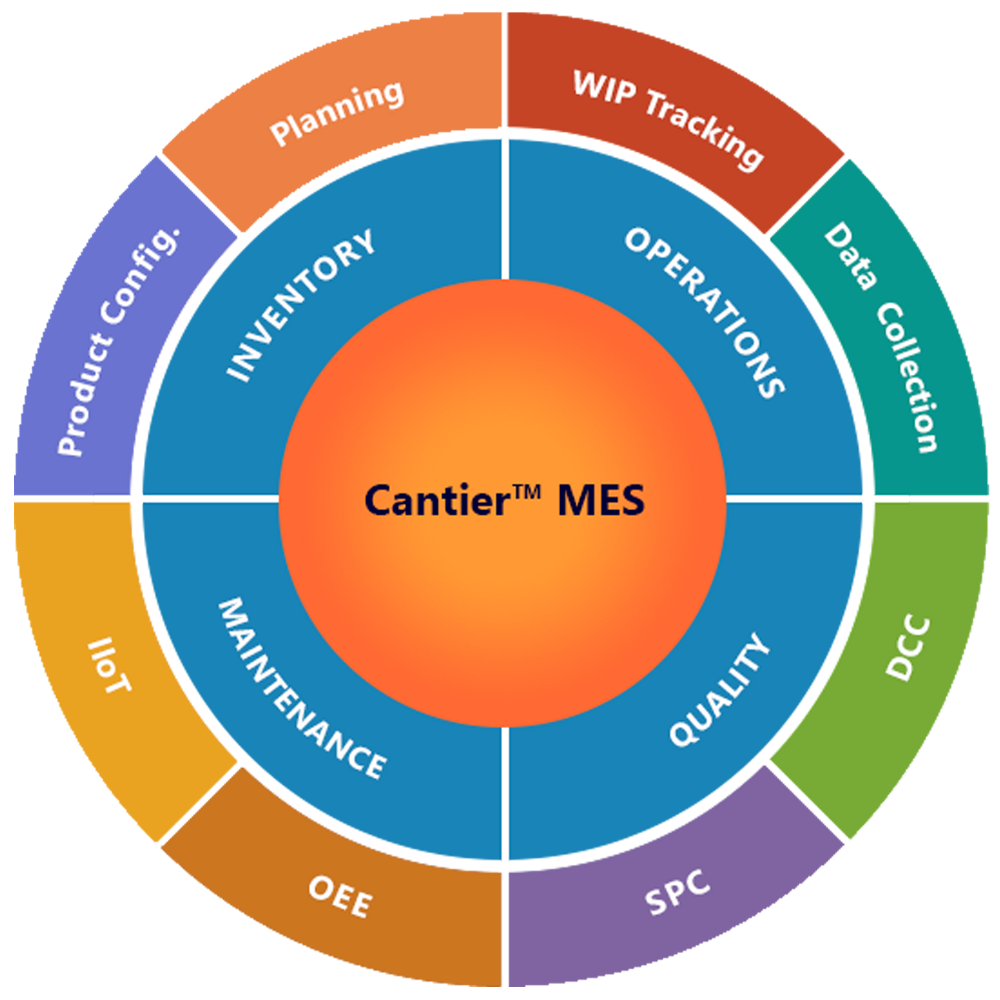 Guardus Solutions name its OEE Measuring Equipment Management; this module ensures the regular control and calibration of the equipment used for manufacturing and production and takes care of standards conformity of all equipment capability.
Guardus Solutions MEM module can:
Measure Equipment Master Cards
Measure Equipment Calibration
Measure Equipment Capability
Define Inspection Intervals
Save Booking History
Create Schedule List
Integrate with Inspection Planning and Data Collection
Critical Manufacturing sees OEE as an integral part of its MES. As MES maps and stores information on operations, both processes and assets. This, in turn, enables IIoT to operate a facility autonomously through the MES system which organizes and leverages that data.
Through this holistic and structured view, the plant can calculate overall equipment effectiveness (OEE) as a signal for where to focus both immediate changes in automation settings as well as long-term continuous improvement efforts.
Have you used MES-OEE Reporting solutions? You are welcome to leave your feedback.
Did you spot an MES-OEE Reporting solution that belongs in this list missing? Send it to us at info@smarterchains.com and we will add it.