Vasilis Karamalegos

/

Advanced Manufacturing Technologies
MES : 8 Solutions for Optimal Factory Automation
As we span the dawn of the 4th Industrial Revolution, a multitude of companies offer specialized Manufacturing Execution Systems to accommodate the needs of Production Scheduling according to the laws of Lean Manufacturing. Below you can find 8 solutions that lead the way to the Industrial Internet.
Omega Gruppo's MES solution is the Agilis SMART MES, a Software for Production Data Gathering.
Agilis SMART MES works on three pillars:
Connecting Resources using IoT in Real Time
Smart MES allows to declare operator's procedures and acquired data through MES Devices and the Internet of Things (IoT).
Smart Touch Factory Progress
Departmental Smart MES manage process issues by comparing the evolution of planned activities with Production Data MES.
Using Digital Technology for Visual Training
Smart MES is used as a Production Trainer to educate employees on Efficient Production Processes through Key Enabling Technologies.
Epicor's Mattec MES is a Product Control and Manufacturing Execution Software that enables the connected factory manifacturers to eliminate inefficiencies and make better decisions based on accurate, real-time information.
Mattec MES capabilities include the following:
Production Monitoring
Process Monitoring
Energy Monitoring
Alerts and Notification
Production Scheduling
Maintenance Management
Quality Management
Advanced Analytics
Atachi Systems offers NGIMES, promising faster implementation times and advanced manufacturing control with end-to-end visibility.
With NGIMES, an Industry 4.0 and Industrial Internet of Things ready system, Atachi Systems offers an efficient way to
collect data via paperless processes
track progress and manage documentation with minimal risk
employ real-time quality monitoring
reduce defects through built-in statistical process control (SPC)
ONG Automation's MES solutions are designed to remove paper based reporting solutions and implement an Automated Electronic Batch Record to Full Product Track & Trace Systems.
ONG Automation's MES can gather real time data from any touch point and use it to provide solutions to the following:
ERP Integration
Work Order Handling
Product Track & Track Solutions
Serialisation
OEE (Overall Equipment Effectiveness)
Electronic Batch Records
Customised Applications
Integration into 3rd party Systems
Avanceon supports manufacturers in the full lifecycle of an MES application from conceptualization and value mapping, system and requirements definition, technology selection, pilot, implementation, and rollout to all plants and lines.
Avanceon's MES solutions address the following key areas of a manufacturer's functions:
Operations
Work Order Execution
Recipes & Specification
Electronic Batch Records
Batch / Lot Tracking
Inventory
BOM
Procedural Steps
Performance
Utilization & Downtime
Overall Equipment Effectiveness
Labor Tracking
Quality
Statistical Process Control
Lab Integration
HACCP Management
Regulatory Compliance
Line and Run Check Points
Wonderware has created MES Performance, a solution dedicated to automatic data collection on production and packaging lines.
MES Performance empowers stakeholders with actionable information to effectively increase line performance and operating efficiencies through the following actions:
Capturing of short stoppage events
Freeing line operators from manual data collection tasks
Immediate feedback on unexpected or trending conditions
Clear indications of line bottlenecks
Real time performance metrics and drill down analytics
Lighthouse has built a modular, expandable MES solution to help companies achieve Manufacturing Excellence.
A comprehensive solution, the Shopfloor-Online MES software platform comprises 26 independent modules; clients can select only the necessary modules initially and add more over time.
The Production Operations covered are the following:
Scheduling
Job Tracking
Downtime
Production Counting
Waste
OEE
Line Log Book
Labour
Workflow

Lighthouse MES
Maval position themselves as pioneers in the development and implementation of production management systems MES/MOM for Smart Factories, better known as Industry 4.0.
Such systems can provide production environments with:
intelligence and capacity for decision making
continuous improvement of processes
optimization of processes implementation and management
quality insurance for both the process and the products manufactured
Maval has created an MES specifically for manufacturing, called Manufacturing Operations Management which has the ability and speed to communicate with the automation Shopfloor level, as well as management and product business systems.
This system has a dual function:
Vertical and bidirectional integration between the control layer and the ERP
Horizontal integration between the different actors on the workfloor: Production, Quality, R & D, Maintenance, etc.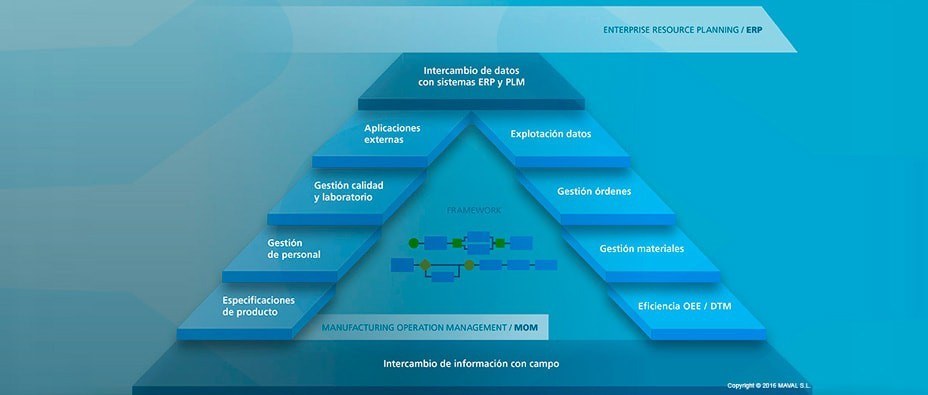 Maval MES

Did we miss a solution that you believe belongs here? Send it to us at info@smarterchains.com so that we can feature it!
We appreciate your feedback in the comments if you or your company have used these tools.