Industry 4.0 Tech Vendors
Leverage your technological proficiency to become a tech vendor partner and gain access to top clients, looking to transform their supply chain.
Get Started Now
Start fast, easy and remotely​
At No Cost
No hidden and registration fees
Join the Directory
Be part of the Industry 4.0 Marketplace​
Why partner withSmarterChains?​
Showcase your solutions directly to relevant parties​

Data-driven specifications provided

Decrease your pre-sales effort​​
Gain qualified leads to Fortune 500 companies and other top-level companies​

Sign central enterprise agreements

Higher success rates and quotations
Industry 4.0 Partner Program
Be part of the Vendor Discovery Directory
All our clients have access through SmarterChains platform to our Vendor Solutions tool, to discover the Industry 4.0 Vendor Marketplace.
Showcase real use cases through our Trainings
Participants in our Education program can explore your solutions based on real use cases.
Share your proven Loss Recoverable solutions
Client discovers how technologies impact their daily operations.​
Provide project planning and timeline
Predefine a project planning template of your solution implementation.
Download the brochure
In this comprehensive report, you'll discover:
The program guide and the elements that come with it​
Your immediate benefits after participating in the program​
How to start immediately and at no registration fees
The vendor's profile we are looking for towards empowering our clients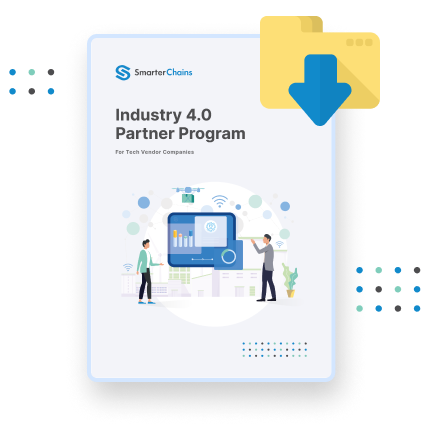 Who is participating?​
SmarterChains Partnership Program is designed for Technology Vendor Companies who:
Demonstrate top level hardware or software solutions within a mix of industries
Develop top-notch technologies across Industry 4.0 ecosystem
Prove results at prior clients using Industry 4.0 methods to transform Supply Chain and Manufacturing
Have a strong portfolio of Fortune 500 clients in the last 5 years
Proven record on digital strategies development
Submit Your
Submit_Your_Interest.svg

​

Interest
Get​ Verified
clipboard.svg

​

Today
Partnership Elements
team.svg

​

Activation
Start​ Now
work.svg

​

At No Cost